Up-skilling is something that we really believe in and we are always looking for new ways to support our team with their personal development. But it's not all recruitment-based learning. Beth, part of our candidate team, had the chance earlier this year to gain a first aid qualification and became one of our nominated workplace first aiders - more on this (from Beth's point of view) below.
---
One of my fondest memories of being in the Brownies as a child was completing my first aid badge. It was one of the first badges I got, and the first one that felt that it could be of real use in my life. That's why when I found out Smile was in need of a new first aider, I was the first to volunteer! Only this time I didn't have to sew a badge onto a sash or wear a bright yellow t-shirt…
I attended a one-day course, with St John Ambulance. While I thought I'd remember the basics from my days as a girl scout, it turns out I still had a lot to learn!
Being a one day course, it was an intense day of learning, with assessments throughout the day. We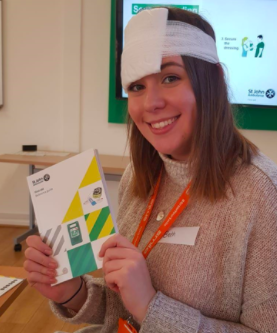 learnt a lot, from CPR (It turns out I still have my fear of 'Resus Annie' from back in high school - don't ask) to how to apply a plaster. That's right - how to apply a plaster! I learnt I've been doing it wrong my whole life (I am equally as shocked as you)! We also learnt the basics of how to correctly treat different types of burns, and how to bandage a head injury. Please see the below photo of how NOT to bandage a head injury! (safe to say my partner failed his first attempt!).
Being Smile Education's First Aider really makes me feel like a valued member of the team! So far, I'm lucky to have not had to put my knowledge to use. Although we did have a close call - a failed flight to PB Island saw Patrick take a tumble. Though he came out with a few bruises, it was only his pride that took the brunt of the damage.
I really enjoyed attending the course and widening my knowledge outside of recruitment. Personally, I think first aid is a brilliant skill to have - you never know when you're going to need to help someone! When I got my first aid badge at Brownies, I remember feeling really proud of myself and the thought that 8-year-old me could maybe one day save someone's life. As cheesy as it is, that proudness returned when I became Smile Education's qualified first aider. While it might sound a little cheesy, I felt just as proud this time around and while I hope I won't have to put my new skills in to use anytime soon, I know that if the time comes I will be ready.
If you would like to know more about working at Smile and the training that we offer internally, then get in touch. If you'd like more information, check out our 'working at Smile' blogs or head to 'work for us'.