Our Charnice did something very impressive on Sunday 13th October, she donned her running gear and took part in the Great Birmingham Run in aid of Birmingham Mind.
Having recently lost a friend to suicide, Charnice, who run the half marathon alongside her friend, was keen to raise awareness that there are people that you can talk to if you are feeling down, one of them being Birmingham Mind. While it may have been too late for their friend, the girls wanted to show others that it is not too late for them.
For those of you that know Charnice, you'll know that she is not one to shy away from a challenge and a half marathon for someone who doesn't run all that often is certainly that! When quizzed about her exercise routine and why she chose a half marathon, she said:
"Our strenuous exercise routine had been consisting mainly of walking to and from the fridge for more snacks and we wouldn't want to embarrass people with how fast we would run a full marathon… So a half marathon seemed the logical activity".
The girls were also eager to do something locally as it was important to them, as it is to us, that the local community was involved.
Before running the marathon Charnice trained by briskly walking and jogging around her local reservoir and/or chasing her 'feral' (her words) dalmatian across the fields. She did not by any means give Forest Gump a run for his money and if she had, she would have lost. Before doing the half marathon, the only other time she'd ran to raise money for charity was during Pretty Muddy.
However, despite some minor preparation issues, she described doing the half marathon as amazing. The girls explained that the atmosphere during the run was unlike any other, a personal highlight for Charnice was being cheered on by a church group who played Spice Girls through their boombox (does it get any better, we think not). Many of those supporting from the sidelines brought sweets and chocolates to help give people, like Charnice, an extra little boost.
Of course, both Charnice and her friend also found the race very emotional for their own personal reasons and but also for those of others. Almost all the people there had been affected by something. There were many t-shirts which were adorned with heartfelt messages about loved ones who had passed as well as those still fighting which were at times tough to read but they kept on going!
One part of the course that, Charnice did not like though, was what she called the 'Hills of Doom'. Should any marathon officials be reading this, Charnice has requested that the course be rerouted to include flat surfaces only. She would also like to see the removal of the 'Free Radio archway' which tricked her into thinking she had finished the race when she actually had another mile to run… We are told that we'll never know heartbreak like it. A big Smile shout-out to the man, who encouraged our girl to keep going though - we need more people like you in the world!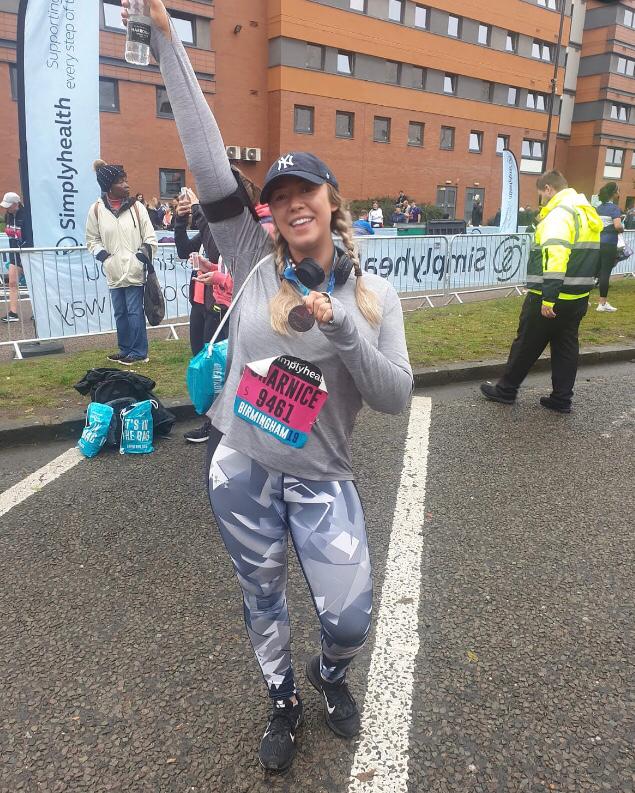 Upon reaching the finish line, Charnice felt emotional, excited and exhausted all at once. Charnice's friend, who had finished before her (and prepared better!) was on the sidelines cheering her on and this coupled with the random motivation of wanting to finish before 1:30 pm inspired Charnice to sprint to the finish line. She sprinted so quickly in fact, that she received a few shout outs in the commentators (we expect nothing less). Thanks to her sprinting, Charnice finished the race in an impressive 2 hours, 13 minutes and 1 second.
Life after the finish line was a rollercoaster of emotions. The blisters, of course, were a killer but the receipt of a goody bag (which included a tin of tuna) helped to ease the pain. Later on, after taking a little time to rest, the girls treated themselves to pasta and prosecco to celebrate
Overall Charnice and her friend raised an amazing £1,420 in total. The money raised will help Birmingham Mind to continue to provide mental health services in the Birmingham area. Giving back to our local community and charity is something which is very important to all of us at Smile and you'll often find us out and about doing it our bit (you can read more about the other things that we have done here). As a team, we are so proud of Charnice and all that she has accomplished. There's only one more thing left to say: when are you doing the next one?